Some methods of investing are pretty hands-off; some can be downright sedate in terms of what they demand from you as an investor. Real-estate is not one of those methods.
Your Dallas investment properties are an excellent way to earn a passive income—but there are a few sobering realities that will bump up against your dreams.
A property will always be subject to wear and tear, even (or especially)

if it goes unoccupied

.

There is a shelf life to almost every aspect of a home if it isn't kept up carefully over the years.
It can be extremely tempting to take on whatever you can manage on your own time and dime when it comes to fixing up your rentals. You may even be a peerless repairs pro—but rental properties come with additional considerations.
It's one thing to take care of things around your own home—but it's something else altogether to try to resolve a significant maintenance problem in a rental property. Don't create more expenses down the line by trying to save a buck today! Here are a few compelling reasons why you should rely on professional maintenance for your Dallas properties.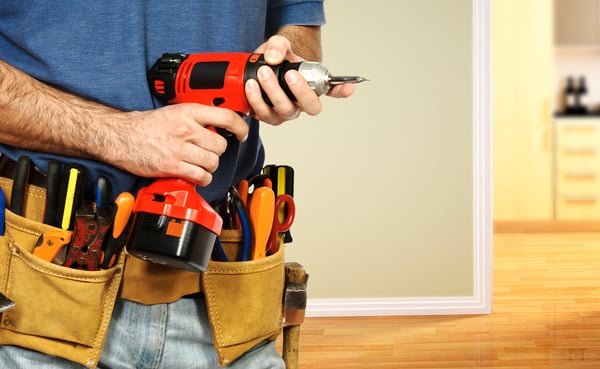 1. Professional Maintenance Is on Call 24/7
It seems like a law of the universe that when something goes wrong, it's going to go wrong at the most inconvenient time.
Maybe a refrigerator goes out right after your tenants leave on a week-long trip.

It could be that a plumbing fixture starts to leak in the middle of the night.

Maybe that summer thunderstorm

tears up the roof

on a Sunday evening.
Whatever the problem is, without professional maintenance staff, you're the one taking that weekend or early morning phone call. When you choose a Dallas property management company to meet your maintenance needs, you relieve yourself of the on-call pressure.
Ultimately, this allows you to get back to growing your portfolio—especially if you're a long-distance investor taking advantage of the Dallas market.
2. A Professional Can Approach Any Problem
We certainly don't mean to imply that you aren't a skilled handyman or woman, but a professional maintenance tech does property maintenance day in and day out. They'll have seen it all and can get to work efficiently and do it right the first time. Hiring a professional saves you the trouble of trial and error—and it also saves you money in the long run.
Many

common maintenance issues

are complex ones.

Electrical issues, plumbing and HVAC problems, and significant appliance breakdowns are not good choices for DIY projects.

Hiring the right professional helps you find the perfect fit for any job.
Finding the right contractor isn't always easy, either! This is where working with a professional Dallas property management company can also really benefit your investment portfolio.
Property managers that pull their weight will have a vetted list of skilled contractors ready to get to work on keeping your properties profitable. You can be sure that your tenants and your properties are in the right hands!
3. A Professional Brings Better Buying Power
A Dallas property management company can save you money in other ways as well. Because an established property management company will have forged business relationships with maintenance professionals through a higher volume of work, they can often take advantage of economies of scale and negotiate better rates.
When it comes to negotiating and

working with contractors, a property manager can apply their expertise

.

This experience can help you get a reasonable price and avoid any contractors

who are out to rip you off

.

You're less likely to find yourself on the wrong end of a scam when you have repairs done right from the start by working with a Dallas property management company.
4. Protect Your Investment
When it's all said and done, you want to make sure that you're making the right choices to protect your investment.
When your tenants have to live with sluggish response times and unaddressed maintenance problems, they're less likely to renew their lease, recommend you to friends, or leave a positive review. You'll have to spend more time finding and screening new tenants, and your property is more likely to become a liability instead of an asset as it sits empty.
As a solo investor, make every effort to respond to emergency requests in under 24 hours.

Even less critical items should be addressed within 48, if at all possible.

Don't let yourself end up in legal trouble because of an unaddressed maintenance problem!
There is no better way to protect yourself and your investment than by hiring a professional property management company in Dallas; you can rest easy knowing that you're covered.
Reach Out to RentHub!
Whether you're staring down a significant maintenance problem that's about to ruin your month or you merely want to fix up a few things between tenants, you know now that a property management company in Dallas is the way to go. However, at Renthub, we know that not all property management companies can provide the same level of service.
How do you know which property manager will treat your investment like their own and make smart repair decisions for your property? You'll want to find a property management company in Dallas than can address maintenance issues and tenant complaints and keep your investment performing at its best.
The best way to get started on finding the right property manager for your portfolio is to download our FREE guide! It's full of insider tips on which traits to look for in a property manager so that you can keep your Dallas rentals profitable.