You're going to encounter many circumstances during your time as a McKinney real estate investor that you perhaps didn't anticipate when you started.
A fairly common scenario that can take even experienced investors by surprise is when they find that a current or prospective tenant has a disability that qualifies for protection under the Fair Housing Act.
Some significant laws protect this population of renters, and you must understand them.
This knowledge will help protect you and your McKinney investment properties—and also help you be more inclusive as an investor who provides a home that helps your tenants live better lives. There are a couple of essential concepts that apply here:
The Fair Housing Act (FHA)

The protections that it affords

Reasonable Accommodations.
Let an expert McKinney property management company guide you through some of these tough concepts so that you have a better picture of what to do in a situation where accommodation is required.
Please note: while we are one of the best property management companies in McKinney, this article should not be construed as legal advice! If you're struggling with how to address some of the topics covered here for your rental properties, get in touch with us!
What is the Fair Housing Act?
Congress enacted the Fair Housing Act in 1968, and it broadly protects people from discrimination when they are engaged in many housing-related activities. This including renting or buying a home, getting a mortgage, and seeking housing assistance, barring certain exceptions. The Fair Housing Act prohibits discrimination in housing because of:
Race

Color

National Origin

Religion

Sex

Familial Status

Disability.
These protections apply in all but a minimal number of circumstances.
Many of these categories are pretty straightforward, but it's particularly important to understand the term "disability" as it applies to fair housing, because meeting the letter of the law can be far more complicated when you don't speak legalese.
Let's take a moment to define what "disability" might mean in the context of your McKinney rental properties.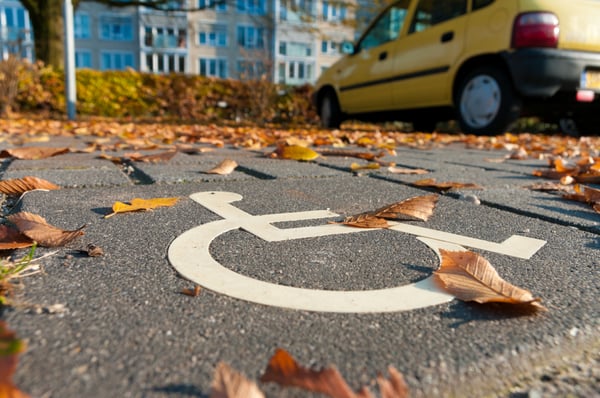 What Does the Term "Disability" Mean?
The Americans with Disabilities Act (ADA) defines a person with a disability in the following way:
A person with a mental or physical impairment that substantially limits their ability to perform major life activities

A person with a recorded disability

A person that is considered by others as having a disability.
If a tenant meets one of these criteria, then they are protected by federal non-discrimination laws in several areas, including employment, access to public facilities, and access to housing.
The term "disability" can seem like a broad or complicated one here, but it's pretty simple.
The term covers any tenant who has a visual, hearing, or mobility impairment or cognitive disability.

It's important to note that these protections also apply to tenants with alcoholism (as long as they are in a treatment or recovery program), drug addictions not associated with illegal drug use, mental illnesses, and HIV/AIDs.
As you can see, many qualifying disabilities may not be visually apparent, so it's essential to treat all of your potential residents in the same manner—and especially so during your screening process. Screening tenants is not an area where you want to cut corners; if you find this particularly challenging, working with a McKinney property management company can be an asset for your assets!
What Should You Know?
It's important to understand that you are obligated by federal non-discrimination laws to treat any current or prospective tenant with a disability the same way that you would treat any non-disabled person.

You can't ask discriminatory questions, ask about medical records, or ask questions meant to probe about potential impairments.

The Fair Housing Act also forbids you from steering a tenant towards a specific unit

in your portfolio.
You are allowed to ask questions similar to those that you would ask any prospective tenant such as:
Can the applicant meet tenancy requirements?

Is the applicant abusing or addicted to an illegal controlled substance?

Does the applicant qualify for a rental unit available only to people with a disability or a particular type of disability?

Does the applicant qualify for a rental unit offered on a priority basis to people with a disability?
Be aware that you cannot exclude a tenant with a mental illness solely based on a feeling that they might pose a danger. You are allowed to reject a tenant if you have objective and reliable information about specific acts or conduct (like threats or assault on other tenants), or you've considered a few different factors:
The nature and severity of the risk of injury

The likelihood of injury to your and your tenants

Whether reasonable accommodation can eliminate a direct issue.
What Is a Reasonable Accommodation?
A tenant with a disability may make a "Reasonable Accommodation Request" when they feel that an exception to a current policy, practice, rule, or service will allow them an equal opportunity to use or enjoy their dwelling or common area. Federal non-discrimination laws afford similar opportunities in employment.
What this means is that a tenant with a disability can ask for some accommodations that allow them to better use and access their home. However, there must be a relationship between their disability and the accommodations that they are requesting. Common accommodation requests include things like:
Permission to use a service animal

Permission to mail a rent payment instead of paying in person

Particular parking spaces that accommodate wheelchair access

Physical modifications to a unit, such as lower counters and doorknobs that are accessible to a tenant with a wheelchair.
You should know that you aren't obligated to meet all requests for reasonable accommodation: the term "reasonable" is there for a reason. If a request does not relate to a tenant's disability or if it will create an unreasonable or undue financial or administrative burden for you, you can refuse the request. That does not end the process: if you reject a reasonable accommodation request, you are required to work with the tenant to find common ground (and an eventual solution).
A McKinney Property Management Company Can Guide the Way!
When accommodating tenants with disabilities, there is a lot to consider. Luckily, you don't need the legal expertise to navigate this entirely on your own! A professional McKinney property management company can help you handle fair housing scenarios with ease.
The property manager you choose should be able to work within federal, state, and local housing laws daily—and can put that expertise to work for you. How can you find such a property manager in a metro as large as Dallas? RentHub made it easy!
When you download our FREE guide, finding the best property management company in McKinney to help your portfolio stay profitable has never been easier. Get your copy today to make managing tenant requests that much easier!